Oil circulating pumps
Very specialized circulating pumps for the refrigerating oil pipings of static or mobile transformers and converters, mainly used in locomotives. The main characteristics of these pumps are their light weight, their small space requirement and their universal mounting possibilities in any position, directly into the pipework. The location of the terminal box, of the drain plug and of the rotation indicator is selectable, independently. The motors may be chosen in insulation class H or F and they are submerged in the refrigeration oil flow. The pump is free of any maintenance for 120'000 working hours.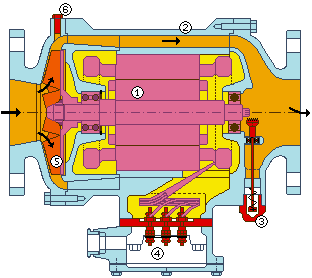 Motor submerged in oil
Aluminium housing
Rotation indicator
Terminal box
Impeller
Drain plug
3 types of oil circulating pumps are available for following nominal oil flows and nominal pressures:
TB from 600 to 1200 l/min at from 0.15 to 1.45 bar;
TA from 1000 to 1600 l/min at from 0.89 to 2.35 bar;
TC from 1800 to 3000 l/min at from 0.97 to 2.00 bar.
They are available for cooling systems with direct connection to standard ISO/DIN piping in PN6 or PN10;
for supply voltages of 400 and 480 V (other tension on request) with frequencies of 50 Hz or 60 Hz;
a wide range of flow rates and pressures;
long-lasting operation without maintenance between -50°C and +120°C.
Easy installation:
universal mounting;
positions of terminal box, drain plug and rotation indicator are selectable;
for connection direct into pipework according to DIN/ISO standards;
small space requirement and low weight.
| | L (mm) | Da (mm) | M (kg) | Dn (mm) |
| --- | --- | --- | --- | --- |
| TA | 480 | 279 | 48 | 80/100/125 |
| TB | 350 | 235 | 32 | 65/80/100 |
| TC | 660 | 280 | 80 | 100 |